With Google Street View, Your Business is Always Open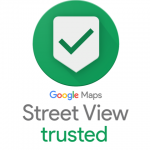 You love it when new customers visit your business, and now they can visit 365 days a year, from any smartphone or computer screen. With a virtual tour, customers walk right in off the street, seeing for themselves all you have to offer. Perfect for restaurants, retail, showrooms, and service providers, customers see what your business looks like, take a tour of your facility and experience it in real-time. Your virtual tour is a fantastic marketing tool that sets you apart, showcasing your business and captivating new customers. Call today to schedule your free consultation.
Gain the Google Street View Advantage
Not only will your Google Street View photos appear in Google Searches, Google Maps and Google+ Local, you can embed your business photos on your website and social media sites. Your brand is amplified when your customers get an immersive 3-dimensional experience everywhere they find you. Customers walk around, explore and interact with your business in a way only Google Street View can provide.
In addition to your 360-degree virtual tour, Google Street View includes professional point of interest photographs including:
Wide-angle view of your storefront
Wide angle point of interest photos of the business.
Close-up of your business name/sign
Attractive features (prepared food/drinks, merchandise, displays, décor, etc)
Google Street View creates a tremendous advantage over your competitors. Put the power of Google's newest tool for business to work for you. Gain market share and attract new customers with the help of Google Street View. Call today to schedule your free consultation.