Engage and Attract New Customers with Google Street View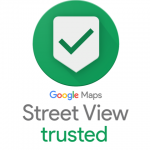 Put the cutting edge technology of Google Street View on your Google+ Local page and show your business in a whole new light. With Google Street View, your business comes alive. The 360-degree immersive view, invites customers into your business to take a closer look. Just like being there in person, business photos allow your customers to walk around in your business, enticing them to visit in person.
Get Maximum Exposure, With 360-degree Views
Your business comes alive with the newest technology from Google for small business. A 360-degree tour extends a warm invitation to new customers to experience your business. Google Street View Photos appear in Google Searches, Google Maps and Google+ Local. But don't stop there. Embed the tours on your web site and social media to amplify your presence. You'll literally be everywhere.
View Examples »
---

Win listings and sell homes faster with immersive 3D tours from Matterport
Matterport's immersive 3D tours are proven to help top real estate agents including The Altman Brothers and agents from Alain Pinel, RE/MAX, and Keller Williams win listings and sell homes faster by enabling online shoppers to experience a property as if they were really there. Sellers are jumping in as well, choosing real estate agents who show that they can market their properties better than the competition. With Matterport, you also have the ability to generate 2D snapshots, floor plans, measurements, and create guided tours to show off a property exactly the way you want to.